3/23/23
Helmets On Heads founder and president Teagen was recently married, look out for her new last name, Mrs. Rozman!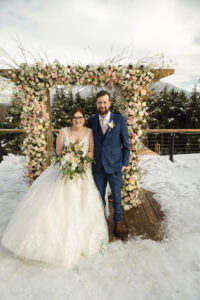 1/11/23
We are really excited about this year and what it will bring for Helmets On Heads and the community! Catch us on the morning radio on January 17th - Classic Country 100.9!
6/5/22
Teagen (FCEO) and Mary (VP) of Helmets On Heads participating in Safey Education at the Rev Alaska event in Wasilla.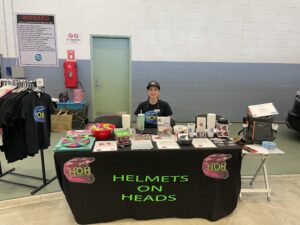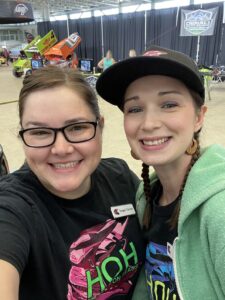 5/30/22
Helmets On Heads was featured on the front page of the
Anchorage Daily Newspaper!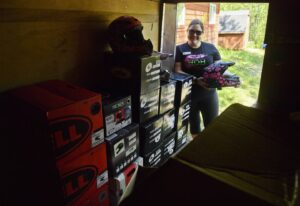 Read the article here: here.
1/15/22
While the current state of affairs has posed many obstacles and challenges, we continue to press on! We have no paid staff, all donations go toward our mission. Not only do we want to get Helmets On Heads, we want to build a culture of safety!  As of Jan 15th, 2022 Helmets On Heads has donated 850+ HELMETS to individuals in need.
8/1/2021
We had the privilege to work with the Bristol Bay School District to send 105 helmets to the island village of Naknek, Alaska. This was a huge project, we powered through the logistical issues and we got it done! We felt it was so important to make sure the children in that area have helmets, especially considering how far they are from life saving medical care and transportation to that care is weather dependent. Thank you to the Kristan Cole Network and Bell Helmets for helping us get this accomplished!  #CoverTheFuture #HelmetsOnHeads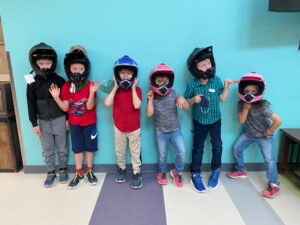 Here are a few of the kids trying on helmets!
6/18/2019
President Teagen Tanner and Vice President Mary Pharr receive $5,000 in support from Backcountry Avalanche Awareness and Response Team! Thank you so much!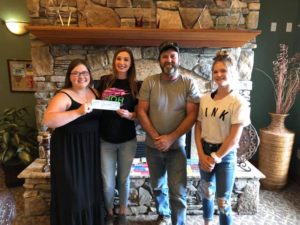 1/7/2018
Pictured below: Dakoma, who was named Miss Alaska Hostess Jr. High America in the Miss Alaska Jr. High Collegiate America Pageant. We had the honor of sponsor her in wining this title and advancing to Nationals which will be held in June in Arkansas. WAY TO GO DAKOMA!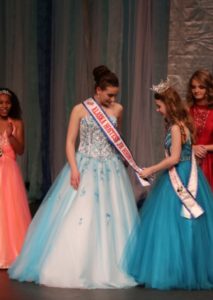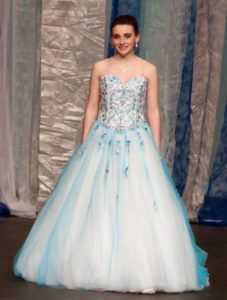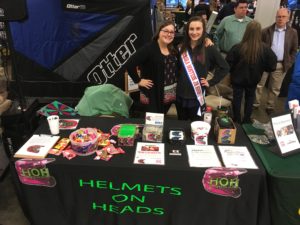 09/30/2017
Pictured below: Teagen Tanner, founder of Helmets on Heads receiving a legislative citation from Alaska State Legislator Cathy Tilton. This award honors the work that is being done by Helmets On Heads to keep people safe! Kathy Tilton presented this award at the Mat-Su Emergency and Safety Expo in Wasilla, Alaska. See the article from The Frontiersman by clicking here.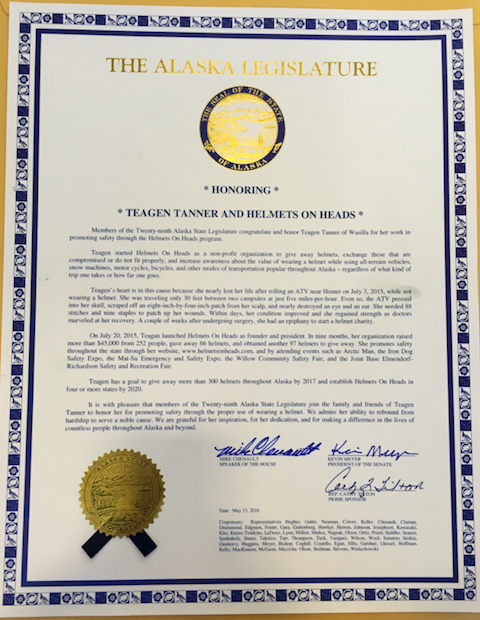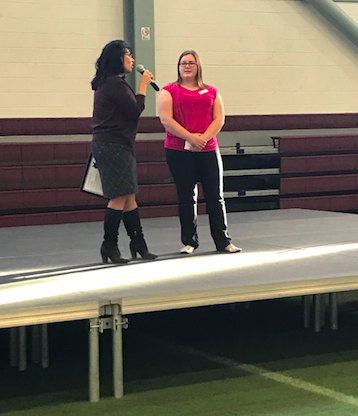 09/20/2016
Click the link to check out this article from The Frontiersman about Helmets On Heads at the Mat-Su Emergency and Safety Expo on September 20th 2016.